Wednesday, 25 March 2020 at 6PM
GAA Director General Tom Ryan released a statement on Wednesday March 25th updating relevant parties in light of the ongoing Covid-19 situation. This statement has been circulated to clubs and all clubs and club offciers should familairise themsleves with its contents. For all Government publications relating to COVID-19 please see the top of our homepage.
Please click below for the full wording of Tom Ryan's statement.
Monday, 23 March 2020 at 3PM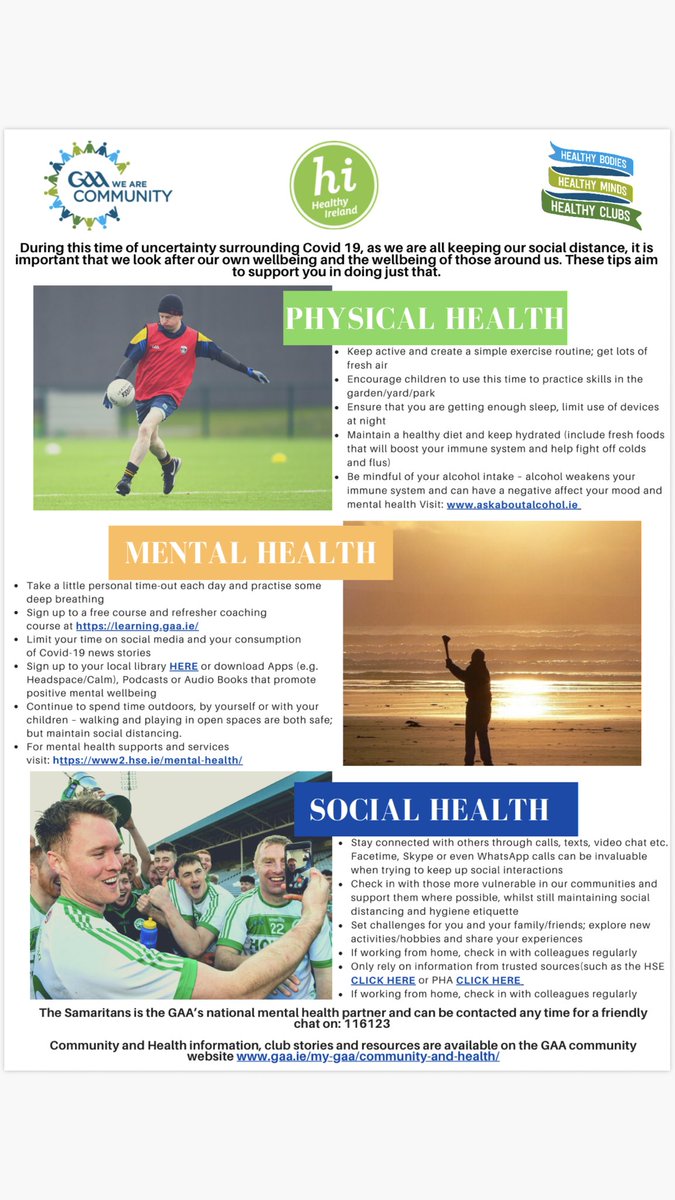 The GAA have issued some advice on Health and Well-being as the coutry battles COVID-19, click below for some tips on how you can improve your physical, mental and social health.
Sunday, 22 March 2020 at 11AM
John Lockes is this weekend mourning a club stalwart following the passing of Davy Kelly. Davy was well known around the Callan area and was the caretaker in the club for many years and maintained the pitch and facilities in pristine condition. This level of care and his welcoming manner spoke volumes for the pride he had in John Locke Park and the people of Callan. Davy also held many roles with the club as player, selector and various officerships. On behalf of Kilkenny GAA we wouod like to extend our deepest sympathies to his family, relatives, John Lockes family and his large circle of friends.
Thursday, 19 March 2020 at 7PM
Kilkenny GAA has issued a statement on Thursday regarding fixtures considering the current COVID-19 situation.
For the full text of the statement please click below.
Thursday, 19 March 2020 at 4PM
Kilkenny GAA would like to confirm that UPMC Nowlan Park will be used as a drive-thru testing centre for Covid-19 following a request from the HSE.
Kilkenny GAA is happy to facilitate this request at this time.